UCB78EXT (dark blue) (spinning rod)
Sold Out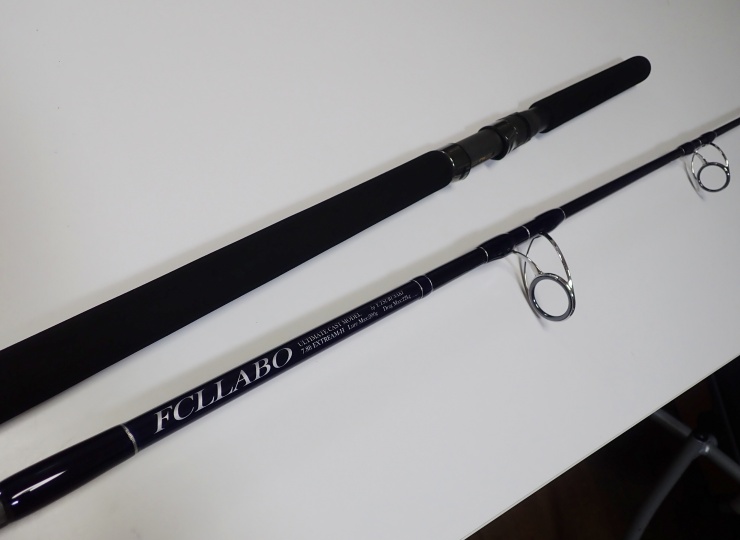 The rod with the highest strength in the FCL rod lineup.
Strong torque and very durable.
If you are only going to take one rod, I recommend this rod without hesitation.
I use this rod quite a lot because I don't incur excess charges on airplanes.
In terms of performance, it is a very reliable expedition rod for me personally.
It can be used for large migratory fish such as Burihiramasakanpachi.
The tip can be thrown neatly around 70g to 170g (set 200g).
I think that it is easier to operate with a large minnow or pencil bait.
The advantage is that it can be operated close to a full drag.
As you know, when it comes to big games, there is no set drag when it comes to fighting fish.
Therefore, considering that the fish can be caught in any position, it is a relatively easy rod for anglers.
If you think it's heavy with a glass blend, it's not that heavy at around 400g. Most of the weight is on the butt section side, so it feels light in a sense.
The reel seat is a down lock.
With lock nut.
The UCB81EXT H with the same power is designed for big plugs for GT, while the UCB78EXT is designed for tuna.
---
* Regarding the power of the FCL boat casting rod
・UCB78EXT
・UCB81EXT H = ・UCB7.10EXT H
・UCB81EXT MH = ・UCB85EXT
・UCB81EXT = ・UCB83EXT
・UCB74
・UCB73M
・UCB73L
They are arranged in descending order from top to bottom.
If the cast upper limit is not specified, please think that it is up to about 300g.
However, the cast feel itself is slightly different.
The GT type 81 model is for plugs and is a little stiff.
In the case of 78, it is made for fights where the burden of tuna, etc., that thrusts downward is heavy.
This takes into consideration the burden on the body because the fight time is long.
| | |
| --- | --- |
| Length | 7ft8in |
| Weight | About 400g |
| Sections | Butt join |
| Closing size | About 162cm |
| Cast weight | MAX 200g |
| Recommended reel size | Daiwa 6500 |
| Recommended fishing line | PE #8 |
| Guide setting | Butt φ40 ~ Top φ16 |
| Reel seat | |
| Fore grip length | |
| Rear grip length | |
| Length from reel foot to top | |
| Length from reel foot to end | |